Winnie Man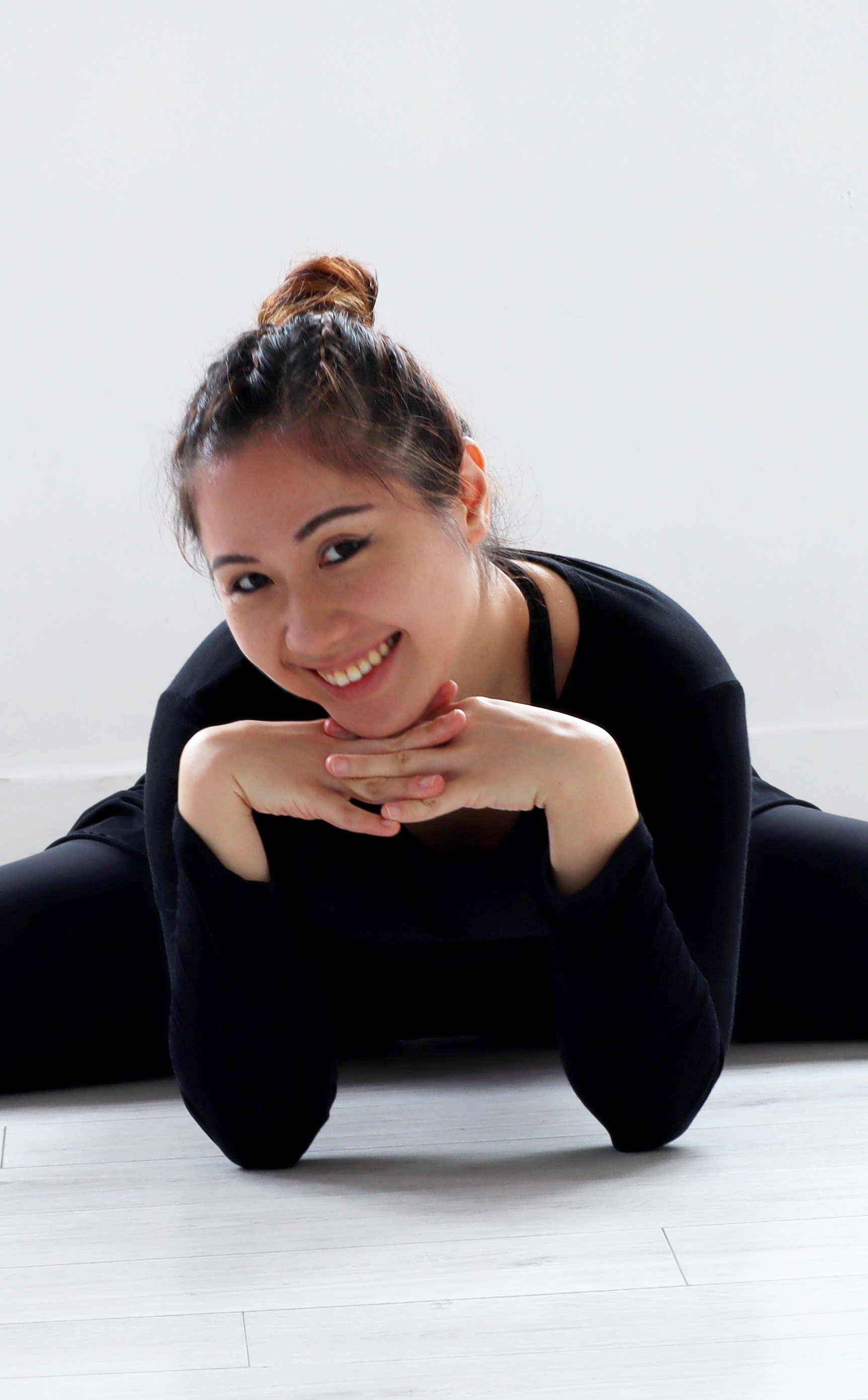 Winnie Man is one of the few dancers in Hong Kong who has overseas performing, choreographing and teaching experience. She was a teacher in Jazz and Hip Hop in Caramell Dance Studio and Dance Central, Sydney. There, Winnie Man also choreographed and performed with The University of Sydney, Caramell Dance teachers and her crew Friends Junction in big events, such as Industry 2009 and Just Dance 2009. During her intensive dance training in Sydney, Winnie had the privilege to interact and even perform with some of the finalists in Australia SYTYCD. In Hong Kong, Winnie Man is the chief director, choreographer and performer in Friends Junction Dance Company; has rich experience choreographering for and performing in countless shows, including big brands NIKE, CASIO, One2Free and artists BLUSH. She was honoured to be one of the adjudicators of Korea Festival - Cover Dance Competition 2015, FJDC Cover Dance Competition 2014, and Belilios Public School Dance Contest 2014. Winnie is a persistent learner and earned a certificate of Education from Havard University in 2021. Demo video
Kenny Ng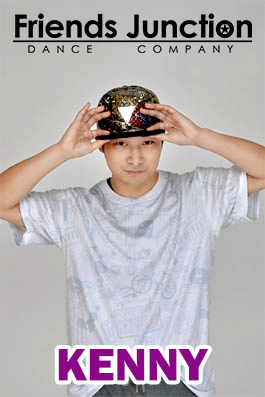 Kenny is one of the few dancers in Hong Kong who has overseas performing, choreographing and teaching experience. Kenny's footsteps have spread around the world - Los Angeles, Sydney, Malaysia, Japan and Taiwan. In Sydney, he was a regular Hip Hop teacher in Caramell Dance Studio and Dance Central. Kenny interacted with top dancers from all over the world, performed in big events, such as Urban Music Awards 2007, 360 Freestyle Battle, Industry 2009 and Just Dance 2009 in Sydney, Australia. In Hong Kong, Kenny has rich experience in choreographing and performing in countless shows, including Minzy "Ninano" Flashmob in Hong Kong, Opening Stage in Minzy x Myteen Joint concert in Hong Kong 2017, KPOP Flash Mob performance promoting Pyeongchang Olympic Games 2018, KPOP Concert (2014, 2015, 2016), Hang Seng Bank (2016, 2017), Asian Hairstyling & Make-up Competition (2015), ATV Chinese New Year Show (2015), Hong Kong Cheering Union Asia Pacific Challenge (2014), Korea Tourism Organization (2013), AIA Insurance (2013), Hong Kong Dance Festival (2010), Solar Project Macau (2010), Fortis Annual Dinner (2009), and Urban Dance Festival (2009). He also has rich experience in working with artists including Minzy (2NE1), Crystal Fung Ying Ying, Grace Wong Kwan-Hing, Blush, Aaron Kwok, CoCo Li, Adam Cheng, Joey Yung, HOCC, Sherman Chung and Venus Cheung. Moreover, Kenny has been training artists and pre-artists for Korean, Hong Kong and Chinese entertainment companies.
Ceci
舞齡19年,擅長jazzfunk,hiphop,ballet,kpop等舞種。並參與多次商業演出及大型表演。曾於多間機構及學校擔任舞蹈導師。
Kento
Ichinose Kento 市之瀨研人 Kento is Japanese. He started teaching dancing since 2008 and has since performed in endless shows including Miss Hong Kong Pageant 2015, ATV 55th Aniversary, various Concerts and MVs. The most recent music video Kento has performed in are 沈震軒 - 單打獨鬥 and 沈震軒 - 親愛的. His favorite styles are Hip Hop, Break Dance and Street Jazz.
Lenna
Lenna從小學學習中國舞,中學更有接觸東方舞和西方舞,在校際舞蹈節獲得多項殊榮,包括全場總冠軍。 2016年,曾與香港舞蹈團合作,於國際青年舞蹈節,代表香港到澳門與各國的舞蹈團體交流演出。2017-18 於FJDC接受訓練, Lenna現就讀於香港中文大學, 曾參與大專院校的表演, 如 Joint U Mass Dance等。此外,亦有參與編舞和教舞工作,如香港中文大學逸夫書院迎新營2018晚會表演。
Ring
Graduated from FJDC Training Program. Trained in Korea Entertainment Company in 2018. Fascinated in Hip Hop/Jazz Funk/KPOP / Urabn and Chinese Dance. Vice President when studied in Secondary School, assisted School in winning Championship for 4 times. Being patient and experience in teaching, her students improved a lot.
Lorraine
Leader of Friends Junction Girls Team. Experience in KPOP, graduated from Friends Junction Dance Training Program. Being patient, encouraging and caring, Kids and Junior students like her a lot. She also joined many performances and competitions with our team. You can see her dance performance and interview here. Demo video
Siu Ping
於2006年開始接觸breaking至今。亦於協青社school of hiphop 任職多年,推廣街舞文化及擁有8年以上的教導舞蹈經驗。 Demo video
TT
TT於中學時期接觸舞蹈,其後亦在大大小小的studio接受訓練,主要舞蹈style為jazz funk,girls hip hop及urban dance,亦有其他表演經驗,例如jw,鄭欣宜演唱會,annual dinner,除夕倒數 dancer等等,此外,亦有在不同studio及社區中心教班的經驗。
Melo
Melo畢業於香港城市大學,並在城市大學舞蹈學會擔任team manager, 帶領學會參與各類大專院校的表演和比賽, 如 Joint U Mass Dance等. Melo亦積極參與各類表演及編舞工作, 其中包括count down show. 積極參與各類比賽如rookie star (2nd runner up), red4u (2nd runner up),更曾參與全亞洲舞蹈比賽 Arena Dance Competition.教學經驗方面, Melo 現於不同中學及社區中心中亦有擔任舞蹈導師及編舞工作.
Miu
Graduated from GZSU - Dpt. of Performing Arts, Bachelor of Arts. Miu is a professional and experienced teacher, she obtained Teacher Qualification Certificate (中國舞蹈家協會), International Dance Festival Certificate (中荷國際藝術節) and award in 2017 Hip Hop International China Hip Hop Dance Championship.
Melody
Member of Kpop dance crew in Hong Kong. She started to learn dancing at the age of 6 and have more than 2 years of experience dancing to Kpop choreographies. Being a member of a kpop cover crew, she have participated in various shows and competitions like KCDF, end of year Kpop night and busking. She have also taught kids and adult Kpop in various dance studios and interest classes. Demo video
Phoebe
Phoebe, graduated in our school training program with scholarship, with her cheerful, charming and influential smile, is a girl who has lots of performing experiences such as 博愛2013,花車2013, 華姐2013, and 情逆三世緣。 Based on her 8 grade Chinese Classic Dance skill, more than 4 years training in Jazz Funk and Hip Hop, she can easily get along with her students, motivate their passion and enjoyment in her dance classes Demo video
Rain
從事舞蹈員有6年經驗 曾經為多個藝人伴舞 例如:左麟右李,譚詠麟,許冠傑,陳慧琳,周柏豪,Coco Lee等等 亦曾經參與及編排多個大小型表演
Fish
舞齡12年 擅長Poppin 中擅長Poppin中的Wave,Robot, animation等風格 常模仿身邊事物為舞蹈主題 以視覺效果見稱 Demo video
Kim Ran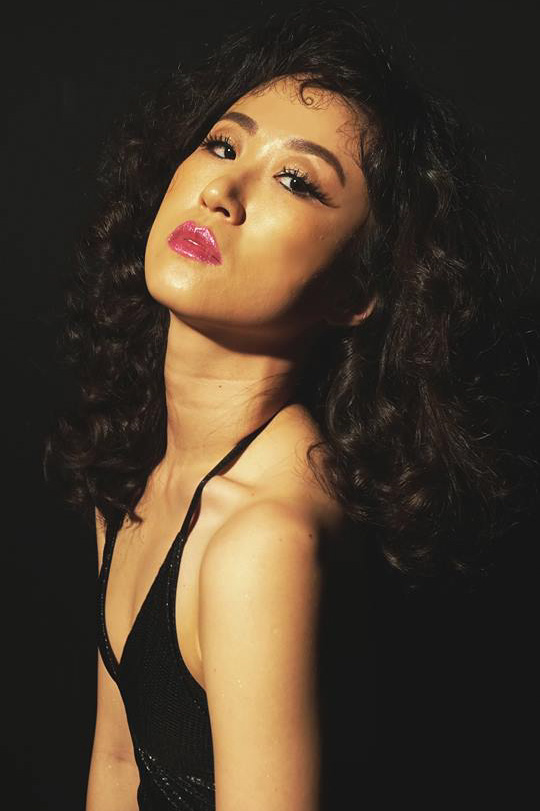 Kim Ran is our Guest teacher from Korea, founder of Gorabbitz.
Shin is our Guest teacher from Korea, founder of Gorabbitz.
Melanie Louise
Rookie and Lindsay, Wawa Dance Academy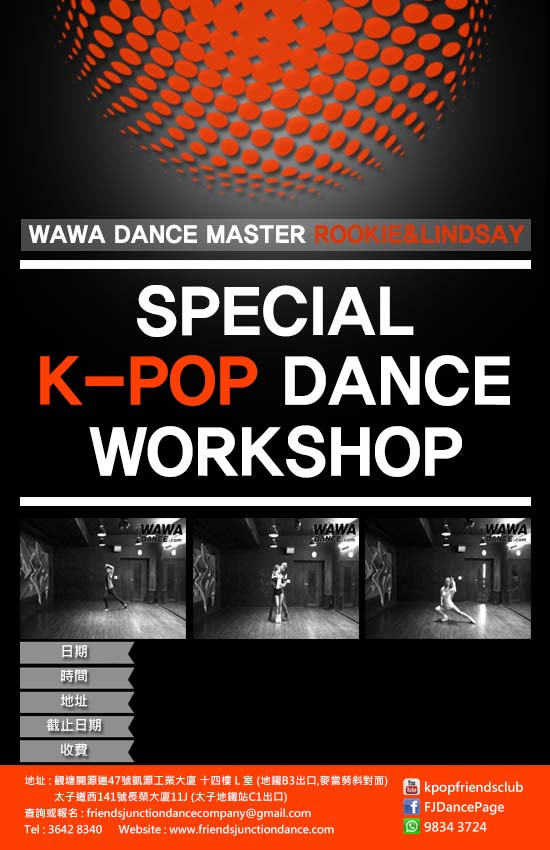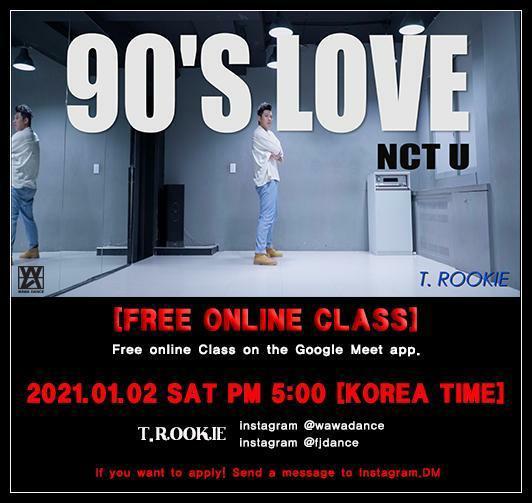 Rookie and Lindsay are the founder of WAWA Dance Academy in Seoul, Korea. They are our guest instructor teaching KPOP at our dance school.